This summer, Alona Beloussova completed a PR, marketing, and event management internship Esquire Magazine in Singapore. The role pushed her, and she flourished.
As a member of CareerUp's own PR & Marketing team, I keep an eye on our interns' social media while they experience their adventures abroad. Over the last three months, I found myself shamelessly 'creeping' Alona Beloussova's Instagram, caving into my curiosity;  what epic photos had she posted from Singapore this week?
Event parties with themed rooms, spa weekends on the beach, and befriending overly friendly monkeys: Personally, I had never wanted to go to Singapore more.  By the end of her internship, I guarantee you it was I who was saddest, as the life I was vicariously living through this intern drew to a close.
As I sat in my office, the rain encapsulating my breakup blues, I realized- what about all of the ins and outs of Alona's time abroad for which there was no picture? Those would be equally as interesting!
What began as an excuse to know more about Alona's on-ground experience with CareerUp has transformed into an insightful conversation on the realities, and beautiful moments one may experience as they intern abroad. So, future, past, and prospective interns, here is my interview with one of the most outgoing interns I have had the pleasure of instagram stalking and what she taught me about starting your work experience young.
You are only half way through your undergrad. A lot of people your age would maybe be scared to go abroad- Generally, do you think you should wait until you graduate to do an internship?
"No. I am a go-getter. I am always looking for opportunities or jobs, always searching for something to do. In school, I am already very involved and at work, I always want to help and do research. I often do other people's jobs.
I know now exactly what I want from life.
This internship solidified what I wanted to do. I have always been into event planning and this summer I got to dive deep into it. I learned that I love people and I could never do a hardcore office job where I don't look or speak to people all day. I might have known it before, but not so strongly.
I remember my boss said, 'sorry, it's going to get really intense. You don't know what you are getting into!'
Well, I extended my time twice.
I ended up turning what was supposed to be a 2-month internship into a 3-month internship. The environment at Indochine Media Ventures showed me what to value in your workplace. I want a good group of friends, a safe work-space, and obviously, a professional atmosphere where everyone respects each other, but at the same time, when the clock turns 6, we can all be friends.
Now, and when I graduate, I think this will show that I am easily adaptable, which I think is really positive because it is very hard to deal with people who are closed minded and don't want to meld to whatever the situation calls for. I am very down to travel around and do different projects and I hope that it shows I am willing to be in new places and try new things.
You go into [the internship abroad] not knowing anything, and you think you have expectations, but really you have no expectations and in the middle of it you're like crap – what am I doing here I don't know anything! And then at the end, you're like, 'WOAH, I actually know so much.'
You go out into professional settings with a world of experience and a genuine smile on your face.
You, now as a professional, are able to be so malleable."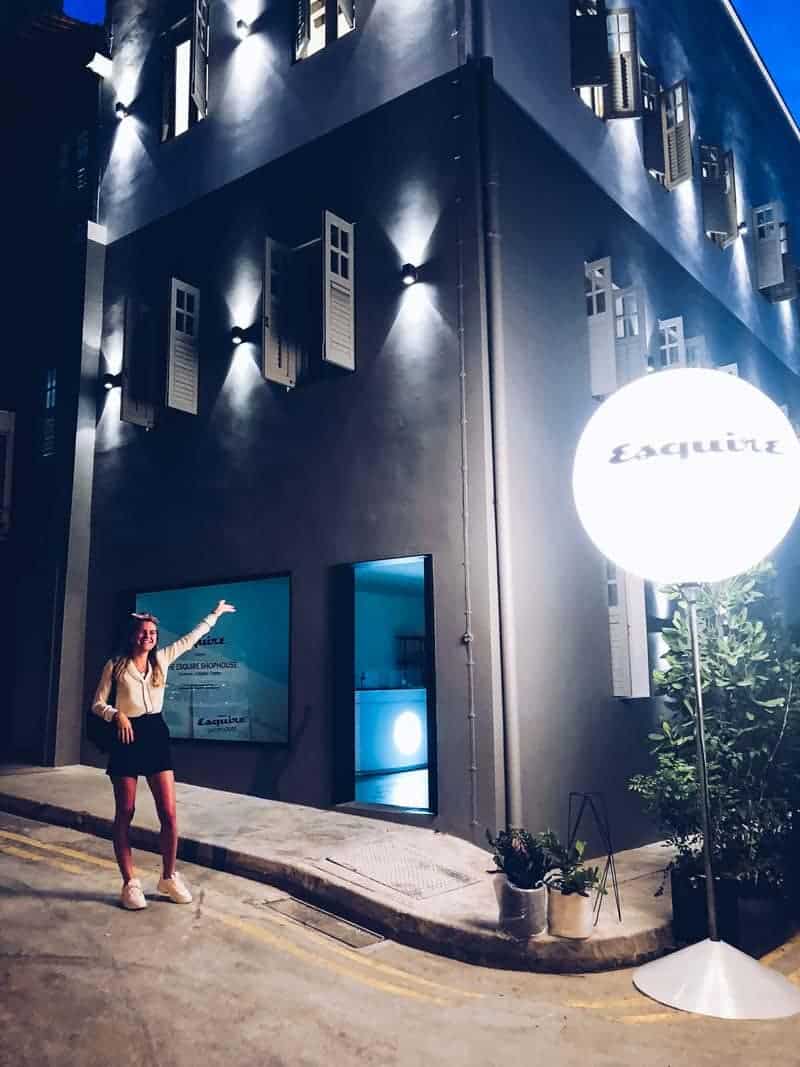 Can you give me an example of when you noticed you were no longer a student but felt like a professional in this role?
"There was an event that we did for Esquire- one of the magazines my company represents- and I was standing at registration. People were coming in and didn't know what was going on; it was a trivia night. They were still coming, but a little confused about what was going on. I made sure everyone coming through the door was engaged with and felt welcomed and excited.  I was talking to the editor-in-chief on the way out and he was so happy, saying it was a great time. By the end of the event, everyone was laughing, saying how much fun it was. I think I really took over on that event because my co-workers on the team were really busy so I was at the venue early and doing all the little things, like putting things in plastic holders- the stuff that needs to get done behind the scenes.
Seeing the end, especially in an event, you can see a physical representation of all of the work you put into it. That is really rewarding for me. You see all the people come to life at the event and express it was so fun and ask how you did it- those kinds of questions really make me feel good."
How do the responsibilities you experienced during your internship abroad compare to those in North America?
"I have never worked in the USA and Singapore technically is my home, but I know [american internship experiences] only from what I have heard; I feel that as an intern abroad, I was given more opportunity and responsibility. For me, that is how you learn- if you take responsibility and suck it up and say, "hey, I messed up," which will happen in the real world. I'm definitely not an expert on internships in the States, but I do feel like I was given more of a chance to communicate and work with other employees."
In Regards to Cultural Differences, Feeling accepted as a cultural outsider, and Cultural Sensitivity in general:
"I learned a lot about culture. Singapore is so diverse, you are always going to be in a room with at least five different cultures and be aware of who is around you. We actually had an event, Esquire Talks, where there was a panel talking about this. I feel like in Singapore, people are less tense about cultural awareness; Openness and acceptance are just ingrained in the Singaporean mind. However, in the US I find it a lot more different and difficult to be around so many nationalities, where the social climate is very sensitive.
In Singapore, If I said, "Where are you from?"  And the individual said, "so and so," and I responded,  "Oh, I'm sorry, I don't know where that is," I wouldn't be worried about coming across ignorant."
You're young; Were you worried about what an internship abroad would be like? What were your anxieties?
"Emptiness syndrome.
I have interned at a company alone before and then I did this, I didn't know it would be so warm and group style, but I think it makes a world of a difference to have a friend group while you are working. If you have no friends, you wouldn't know what you were doing outside of work.
I am quite loud and outgoing and I don't really want to hide it. So, I was a little nervous that I would get there and my coworkers would be very intense and focused on work. I mean, I also want to be focused on work, but beyond the work, I love to socialize and get along with the people I work with, but you can't predict whether that will click. It's the fashion industry, so I was nervous about what it was going to be like.
What would their reaction to me as a student, as a young person who doesn't really know anything about the real world just yet, be? I wasn't sure what their expectations were, but I felt I wanted to do more,  so I hope I exceeded their expectation. I think I did; I thought that they recognized it and I felt needed and useful. I know that some people have internships and they feel bored, whereas here, they actually gave me real things to do.
I felt they enabled me to come out of my shell.
Before this internship, maybe I seemed like I knew what I was doing, but I did NOT know what I was doing.  I definitely am more confident in myself as a professional. I was a self-conscious person, always quite afraid to go out into the real world and of how people would perceive me. Being taken seriously in the workplace really boosted everything for me.
I feel confident in myself and my ability to do things. I know my learning style as well now- that I learn best by making mistakes and learning and watching other people do it and trying it their way as well as my own. In my roles in the future, i will always be asking questions. I am not afraid of asking, even if it irritates people sometimes. I would rather know than be quiet and scared.
It's like when you see a really good picture and you put a filter on it and everything looks boosted and brightened up and it looks even better. That's what I feel like about myself. Still the same but just better."
Do you think CareerUp- the cost of the program in relation to what you got out of it- was worth it? Is CareerUp legit?
"I think financially is really important to talk about for people who may apply in the future. If you really want to know why the cost is high you just look at the accommodation. Once you get there you will say, "oh yeah, that makes sense. "
The process was actually quite easy, and speaking to my friends it was very easy and efficient. The only thing I was confused about was the living situation and what exactly I would be doing with the other interns. It was a little scary at first, but once you get there…
CareerUp was the perfect amount of involved sorting out the petty things like the train card- which was a lifesaver: You can use that for a 7/11 ride!
Our on-ground manager Mary was super fun and the trips organized- like our night safari and the light show we saw- were things we wouldn't have done if not for her. Myself and the other interns, we went to amazing places together like Bali and the Ultra music festival- these people are not just some faces you see at meals.
We really become like family.
I couldn't recommend CareerUp enough."