Entrepreneurship Industry Overview
This page aims to help you decide whether an entrepreneurship internship is right for you!
Entrepreneurship is the art of setting up a brand-new business or organization. Entrepreneurs may take on great risks when they introduce something new to the market, but if the initiative succeeds, they also enjoy the lion's share of the rewards. There are at least four types of entrepreneurship ventures: small business entrepreneurship, scalable startup entrepreneurship, large company entrepreneurship, and social entrepreneurship.
There are remote entrepreneurship internships to be found in a range of verticals to help you explore which area would suit you the most. With so many different factors involved in becoming an entrepreneur, a remote entrepreneurship internship is a way to see how the concepts taught in school operate in real life, while at the same time acquiring new knowledge and skills. 
This article aims to provide information about what to expect as a remote entrepreneurship intern, how to approach applications and interviews, and potential career paths. We'll provide examples of current postings, outline the personality traits best aligned with this particular career path, and show you how to get the best remote entrepreneurship internship for you!
What will I be doing as a Remote Entrepreneurship Intern?
Remote entrepreneurship interns are usually expected to be generalists. They are ready to help out in any way and in any aspect of day-to-day operations. Much depends on the setting and the industry. Your main tasks will be to help out and to learn as much as possible. In general, you will need to have a basic familiarity with business, finance, entrepreneurship, and related subjects. You could be called upon to research the competition and write up your findings. You could be called upon to create pitch decks for potential investors or construct reports for market need analysis.  
In a remote entrepreneurship internship, you might help organize operations and contribute to new initiatives or take part in fundraising projects. For a business selling fashion and pop art online, you might help out with administrative duties, social media, e-commerce, web design, blockchain, marketing, and business management.
All kinds of companies and organizations take on entrepreneurship interns. From venture capital firms to local shoe stores, international aid organizations to tech startups to art galleries. Begin with the type of venture you could see yourself starting one day, and consider the wide variety of other options out there as you embark on your search for a remote internship.
Is a Remote Entrepreneurship Internship right for me?
If you're wondering whether a remote entrepreneurship internship and future career as an entrepreneur is the right place for you, then keep reading. An entrepreneur is someone who organizes, manages, and assumes the risks of a business or enterprise. They are also the agent in charge of change.
Entrepreneurship is the process of discovering new ways of combining resources. Does this sound like something you would want to do? Have you ever seen an opportunity to turn an idea into profit, or something that could grow to fill a need you noticed in a community? Entrepreneurs respond to social or economic circumstances that create a need or desire for goods or services. From local potters selling ceramics on Etsy to Bill Gates coming up with BASIC at school, entrepreneurs recognize a place in the world for goods or services and choose to respond. If this sounds like something you could do, entrepreneurship could be right for you.  
Even if the popular image of entrepreneurs makes it seem as though they work alone, to succeed as an entrepreneur it's essential to know how to work with others. Knowing how and when to launch a venture requires great instincts and talent. Entrepreneurship also takes an understanding of how the marketplace works, how people will respond to your idea, who would be willing to help you finance it, plain old luck, and more.
A remote entrepreneurship internship is a way to learn about best practices when it comes to starting a business. You stand to gain a considerable amount from seeing how all the different components of the machine that is a business or organization operate. An internship will also increase your future employability.
How Do I get a Remote Entrepreneurship Internship?
To get a remote entrepreneurship internship, you will need to demonstrate to prospective employers that you have basic business skills, plenty of hustle, and a desire to learn. If you haven't studied business, management, finance, or a related subject at university, or if you've never participated in any type of business venture (no matter how small!), you might want to invest in continuing education. 
There are many other programs offered worldwide available online. There are other options: you could educate yourself independently about business in general or a specific field that interests you and demonstrate your knowledge to make a strong application. If you've had experience in a certain field, you could make a case for yourself as a candidate even if you haven't had a formal education. 
We even have a fantastic remote Entrepreneurship Internship program!
Resumes & Cover Letters for Entrepreneurship Internships
It's best to tailor your resume and cover letter to each individual posting for a remote entrepreneurship internship. Every role has its own set of tasks that are specific to the setting. Therefore, it is important to show that you've taken the time to familiarize yourself with the nature of the organization. You can do this by spending time on their website, reading up on their various projects, and checking out their social media. Learn how they like to communicate, and the specific words and phrases they use to communicate. Use the precise wording from the posting wherever possible to increase the chances of your application's being selected by an ATS (applicant tracking system). Make sure you meet enough of the criteria listed before applying, so as not to waste your or your employer's time. Try to begin the process of making applications a few months ahead of when you plan to start.
Interview prep for Entrepreneurship Internships
You never know what an interviewer is going to toss your way. Learn as much as you can about the organization and the role, be professional by cleaning yourself up and showing up on time, and then try and relax as much as possible. Trust in your own abilities to respond to questions, and be as honest and clear as you can. Here are a few example questions that might come up in an interview:
If you knew your boss was 100% wrong about something, how would you handle it?

How can our company be more innovative? Suggest a course of action, including strategy and steps to follow.

What aspects of our business are you most interested in?

What are some accomplishments you are most proud of?

Describe a time when you took on a leadership role.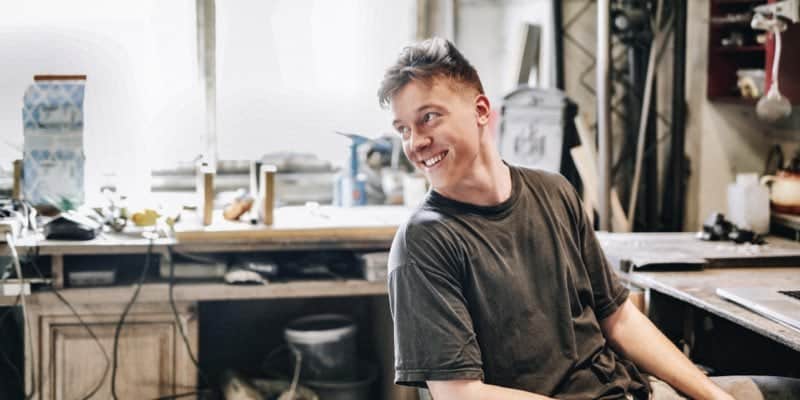 Where Do I Apply?
If you're a student, there may already be resources in place for you to find a remote internship, whether a career center or exchange program with your department. Recruiters may already have been in contact with your school. You can search for remote entrepreneurship internships on job sites such as Indeed, LinkedIn, or Glassdoor, and inquire at CareerUp. AngelList is a great place to look for a remote internship at a startup. You could even reach out to places that haven't posted any openings but where you'd love to work, to see if they would consider hiring a remote entrepreneurship intern.
Example Entrepreneurship Internships
Check out some of the following internship listings to see if these positions are interesting to you!
Business Communications Internship
Company description: A tech startup that helps enhance business communications through interactive, visual and mobile-ready experiences.
Responsibilities: 
Completing research assignments

Assisting or leading operations/business development/sales/marketing/finance

Assisting head of operations and CEO in day-to-day running of the company

Building best practices that make the team more efficient and effective

Leading and developing other interns
Requirements:
Grit, determination, and a never say die attitude

Love of ideation and storytelling

Knowledge of, and passion for, the power of communication solutions

A good understanding of business fundamentals — sales experience a plus

Experience with WordPress
Entrepreneurship Intern 
Company description: A fortune 500 company that will provide a broad range of experience in multiple departments.
Responsibilities: 
Gain industry and organizational knowledge through daily business interactions and job assignments.

Develop business, financial and analytical skills needed for career in global wealth management and financial services.

Provide marketing and sales support to branches and their teams.

Perform market research.

Gain exposure to wealth management business, products, services and clients financial needs.
Requirements:
High school diploma required. In pursuit of college degree preferable.

At least 18 years of age.

Internships are intended to be positions that are for limited duration, with a maximum duration ten months.

Strong desire to gain further understanding of the global wealth management business.

Effective communication and interpersonal skills (both written and verbal)

Ability to work on a team.

Strong analytical skills and ability to interpret.
What Happens after my Remote Entrepreneurship Internship?
Your remote internship will likely provide some insight as to whether or not you would like to continue on the path toward becoming an entrepreneur. At some point, you will have to choose: "do you see yourself as a startup founder or joiner?" And should you decide that you want to be a founder — an entrepreneur — you will need a) an idea and b) people who can help you. Timing is of the essence. When will you be ready to launch your idea, do you have enough business experience or do you need to acquire more, and when will the market be ready to accommodate your venture?
Once you feel ready to move forward as an entrepreneur, you will need to pinpoint the problem or need that you plan to address Also thing about the people who will make up your team. Consider the following important factors, according to Harvard:
Minimum viable product (MVP):

develop your idea in its simplest form to test for market viability and attract investors, collect data and make adjustments

Legal structure:

you need to determine the legal format of your organization, the organizational chart, and distribution of equity, to ensure the company's stability

Funding:

how you choose to fund your venture will have long-term consequences

Personal support:

from family and friends to experienced advisors, make sure you have people to lean on for the long road ahead

 
Salary
The average yearly income for American entrepreneurs as of October 2020 is $47,586, according to Glassdoor. This figure is based on 571 anonymous entries. The low end of the scale was $31k, and the high end was $68k. 
What Happens if it Isn't for Me?
It's possible that even after making all your individually tailored applications and being put through the paces of your hard-won remote entrepreneurship internship, you'll decide that becoming an entrepreneur is not what you want. If that's the case, we would encourage you to congratulate yourself on performing the hard work necessary to come to such a decision. It isn't easy to determine which career path is right for you. Think about the moments along the way where you began to suspect you were in the wrong place. What were you doing? Who was involved? Do you remember how you felt? Points of friction can indicate what made you want to turn away and help you figure out what you would prefer instead. Or what you would need to create a more comfortable situation. Everything you learned along the way should serve you well in the future. Experience is the greatest teacher. Should you choose to walk away, you can do so knowing you made a real effort. People will respect you for that.